The key idea behind the design of this fit-out for Eve Health was to create an environment that would ensure patients feel welcome and at ease. Keeping in mind that the patients using these facilities are dealing with a wide variety of stressful health issues, the design had a real focus on the comfort, support and privacy of the patients.
This fit-out was a great opportunity to challenge the stereotype of sterile, overbearing medical facilities, encouraging a move to medical environments that are warm, welcoming and generally pleasant places to be. The tenancy is located in a busy retail area and as such there is a lot of pedestrian traffic passing by during business hours. 
The design of the entrance stepped back off the street front and the layered effect of the shopfront (including timber joinery, artwork and sheer curtains) facilitate a sense of privacy for patients as well as engaging with the natural and built environment beyond the extents of the building itself.
Eve Health shares the tenancy with another small company, Queensland Fertility Group (QFG). The original brief called for a variety of spaces, which included: shared reception, bathrooms and kitchen/ staff room, and separate waiting, storage, consulting rooms for both Eve Health and QFG. Detailed planning and assessment of the relationships between facilities allowed us to include all these functions in a way that is easily navigated by patients of both practices. Economy of space was also achieved through detailed design of joinery and furniture selection. The outcome is that the two businesses co-exist in the tenancy such that neither is compromised by the presence of the other. Clients of both Eve Health and QFG are led through a logical sequence of spaces specifically designed to suit their needs.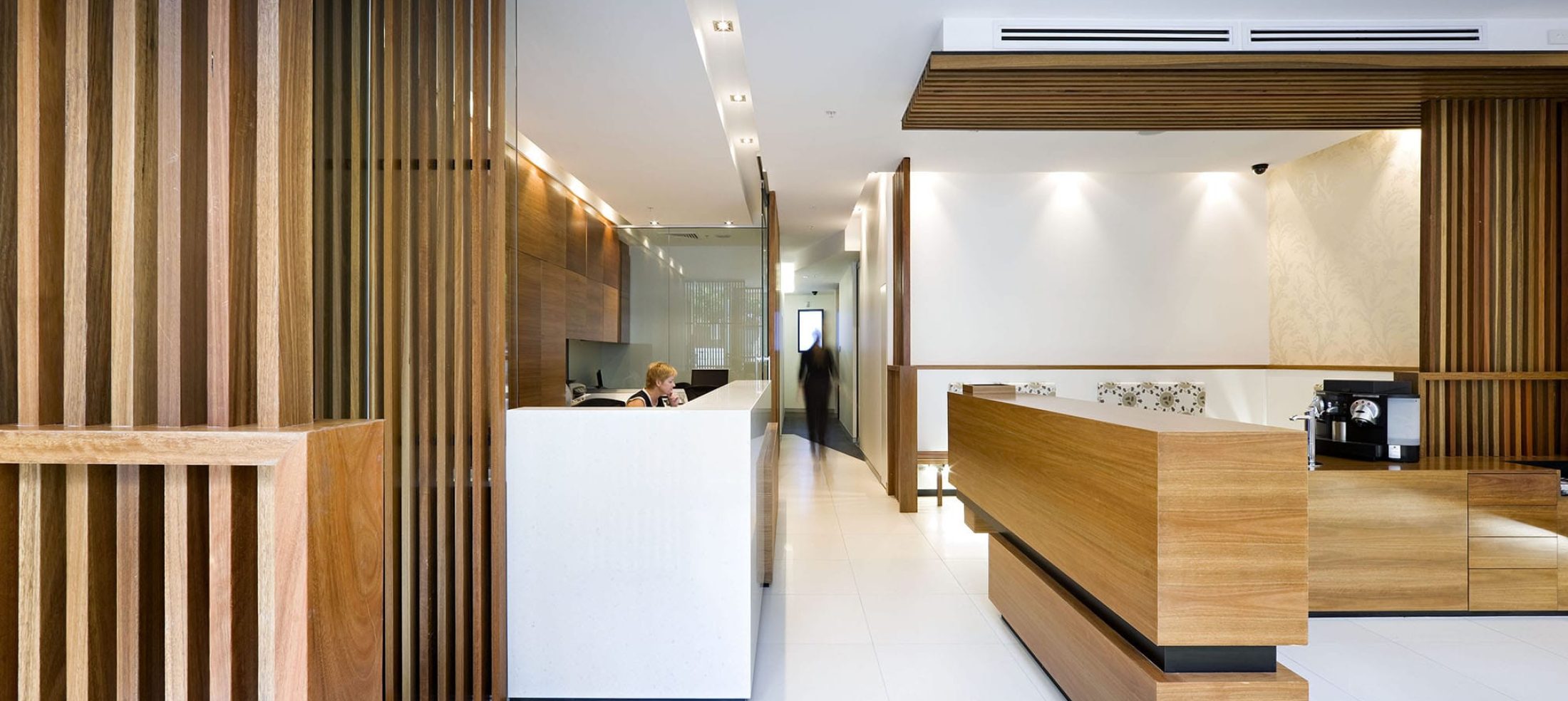 Cutting edge technology, systems, and equipment were a must in this project and Collaboration with DMA Professional Engineers was necessary in order to achieve the high standard of electrical design, which includes nurse call system, medical equipment, LCD screens and various lighting types.