On a small 290sqm site in New Farm, this house incorporates an original timber Queenslander which has undergone a major transformation. The original house has been raised and refurbished to accommodate bedroom spaces on the upper level with master and living spaces on the ground floor, as well as a basement/undercroft space below ground.
With extremely tight site constraints, every corner of the site has been carefully considered and given purpose; the entry is flanked by a plunge pool with swim jet and internal rooms "borrow" space by opening onto private open courtyards amidst the ground plan. Albeit a tight footprint, the notion of creating a sense of spaciousness was key to the design, with high ceilings and voids creating voluminous areas amidst compressed spaces to heighten the sense of space.
Pockets of landscaping amidst the plan provide relief from built form, helping to create a sense of a private oasis amidst the suburban context. A green roof over the rear kitchen and dining pavilion, allows the residents to retain their own "garden" and green aspect, with water tanks stored in the undercroft providing water for reuse for irrigation, clothes washing and flushing toilets.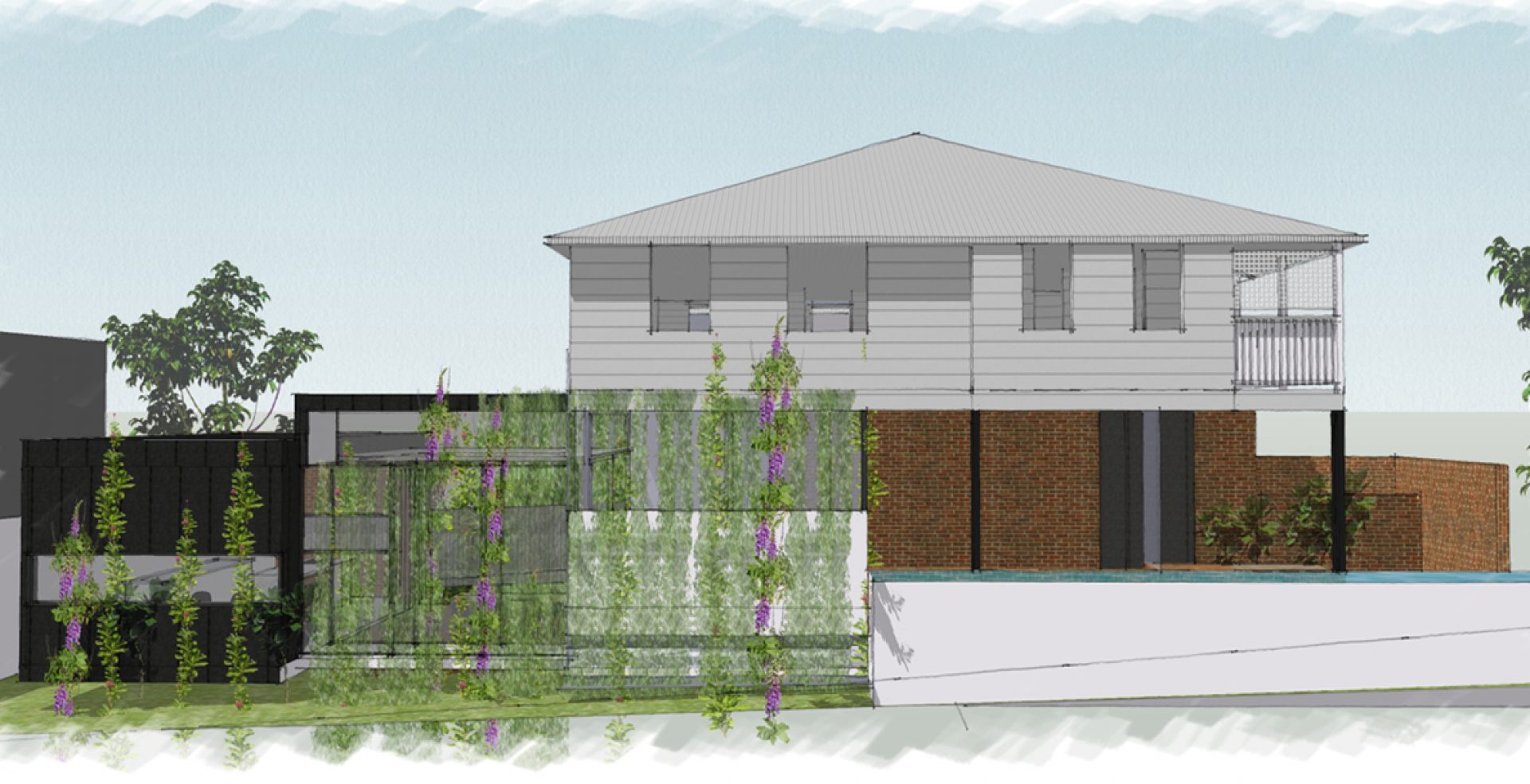 Thermal comfort through climate-responsive design techniques in lieu of mechanical ventilation, has been a large consideration throughout the design process. Passive ventilation and lighting have been prioritized with louvres throughout encouraging natural air flow across all spaces, as well as the use of skylights and light-wells to draw natural light into deeper areas of the house. A whole-of-house fan releases heat from the house, and encourages cool air from the concrete basement and thermally massive off-form concrete elements, to rise throughout the living spaces of the house.
Drawing inspiration from Japanese Architecture, texture and materiality has also been a large consideration of the design, incorporating an industrial palette of off-form concrete, exposed steel and mesh, all in contrast to the original Queenslander, allowing the character house to retain its identity amidst the new elements.